VICTOR stocks wear and tear parts for machinery.
VICTOR schedules maintenance technicians, orders parts and keeps
track of all your past and present spare part orders.
Please contact us if you would like further information or to schedule a
service technician for Preventative Maintenance.
For HUBER spare parts, please see the left navigation bar
or visit the Huber website.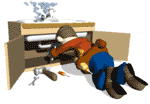 Model and serial number of machine is necessary for accurate order placement.